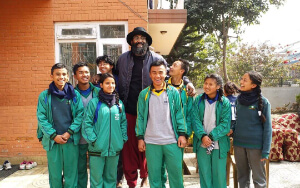 Earlier this year, HCC Signature Students had a surprise visit from retired NBA star Ronny Turiaf. Ronny spent a couple of days with HCC students in Kathmandu, sharing stories, playing basketball, singing, dancing, and building friendships. Ronny inspired everyone with his life story, positive attitude, and kind spirit. The HCC students were excited to meet Ronny and learn from his life lessons.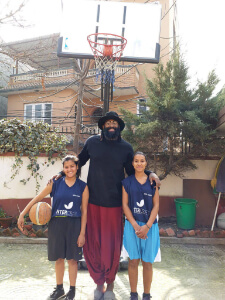 Born and raised in Martinique, Ronny moved to Paris at 15 to pursue his basketball career and attend the National Institute of Physical Education (INSEP). Upon graduation from Gonzaga University, he signed with the Los Angeles Lakers. Soon after, however, he was faced with a potentially life-threatening heart condition and had open heart surgery. Eager to get back on the court, less than 6 months after his operation, Ronny re-signed with the Lakers – a testament to his incredible courage and will. During his professional basketball career, Ronny played with the Lakers, the Miami Heat, the LA Clippers, the Golden State Warriors, the New York Knicks, the Washington Wizards, and the Minnesota Timberwolves.
Ronny's experience led him to found The Heart to Heart Foundation, which aims to raise support and awareness around heart-related issues. Ronny's life has been marked with giving back, even winning the NBA Cares Community Assist Award in 2010 for his involvement in local community work. In his retirement, Ronny has continued his work to support those in need, most recently visiting our youth home Khushi Ghar.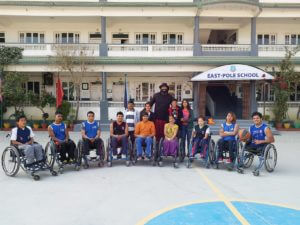 While sitting with HCC students and sharing his life story, he impressed upon the students that true success is listening to your own heart and working continuously to achieve your dreams. He reminded students that regardless of the roadblocks of life, never lose hope and faith. Ronny exemplifies someone that leveraged the hardships in his life to shape his determination to give back.
Thank you, Ronny, for your inspiring visit and for an experience none of us at Khushi Ghar will ever forget. We are looking forward to seeing you again in Nepal in the near future.