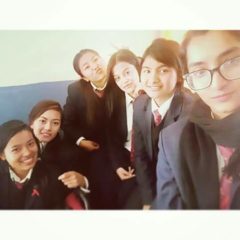 This blog post was written by HCC student Shristi GC. 
Hello Everyone! How are you all doing? I am fine here and hope everything is good there. The temperature here is not that cold now and starting to get hot. I am regularly attending my college. I am giving my unit test, and tomorrow is the last test. This is just a test to review what our performance is and how well we are studying.
Yesterday, I went to Baudhanath and Pashupatinath, a religious temple of Nepal, with one of the Canadian volunteers, and her name is Katie. She is a sweet person, and it is good knowing her. I gave a tour of our historical knowledge about this temple. She wanted to visit this temple before going to Dang,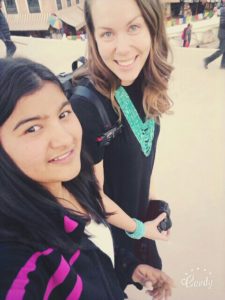 and Dinesh uncle gave me a chance to take her there. It is always a fun time when the new volunteers come here, and we get to listen to their experiences. I am so glad that we have the opportunity to meet new people and get the exposure.
In my leisure time, I am knitting a muffler and helping in Khushi Ghar. I am also preparing for the upcoming pre-board exam which will probably be after a month.
Thank you for helping and supporting us. Lots of Love from Nepal!