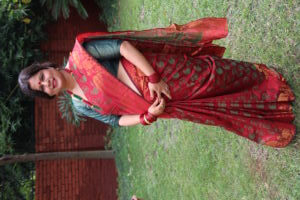 For the past seven years, HCC students have come home to Kushi Ghar, a place that not only serves to house, feed and clothe them but also as a place where they have a nurturing, loving home. Hira Niraula Sapkota has spent the past seven years ensuring that not only is Kushi Ghar a place that serves to meet basic needs, but it is a place where students can feel safe and at home.
As Director of Hostel Services for HCC, she describes her role as "the guardian for all the students. Particularly speaking, I am a mother to all the students of HCC." Although her title is Director of Hostel services, she is determined to ensure that Kushi Ghar (meaning "happy home" in Nepali) is more than just a place to sleep and eat. She creates a home for HCC students. She looks after the day to day needs of the family home, plans different activities for the children, and most importantly, serves as a counsel and guide to them as they grow and develop into adults. For students who did not have an opportunity for stability in their early life, Hira provides much-needed stability every day in the lives of these children. She teaches them the necessary skills required to be a part of a family and part of society.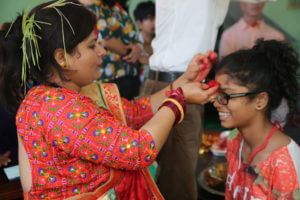 With a degree in the field of social services, HCC was the perfect fit for Hira. She gets to be a critical part of the lives of at-risk youth every day, counseling them through issues and equipping them with the vital skills required to transcend their circumstances. She is thrilled to watch "the students learn and become independent in their day to day activities." Not only is she there for the students when they arrive as children, but she also stays with them as they grow into adulthood. She takes on the role of college counselor when students are preparing to go to a university, guiding them to a program that would be a great fit for their dreams and academic goals. She spends a whole childhood with these children, watching them grow from "childhood to teenagers, from teenagers to responsible adults."
Hira is not only indispensable to the HCC team, but she also plays an enormous emotional role in the lives of our students. It is through Hira that HCC becomes a home, full of love and care, safety and stability in the lives of children who had such basic necessities stripped away from them at an early age. Hira exemplifies the notion of "giving back," and she is a generous, protective presence for our students, day in and day out, helping them learn and grow from at-risk youth into global leaders making a difference in their communities.